Check out our Local History Site, Stirling-Rawdon Past & Present here! The link can also be found by clicking on the About menu at the top of the page, then Local History, then Stirling-Rawdon Past & Present.
The Stirling-Rawdon Public Library is digitizing its Local History resources! The goal of this project is to make the Local History collection accessible online available to anyone, anywhere and to allow the collection to be easier to search. Due to a generous bequest we have been able to purchase equipment to make this project possible. This project will focus on Stirling-Rawdon Township only. We have been busy scanning our local history materials and uploading them to the site found by clicking the link above. This is an ongoing project so be sure to check back regularly to see what's been added. As we add photos and other items to the site if you can identify any places, people or have any additional information to add, let us know!
We are looking for photographs showcasing people, events, buildings etc. throughout the village of Stirling's history as well as the surrounding area of Stirling-Rawdon Township.
If you have any photos that you would allow us to digitize and then return to you, please contact us for more information.
Additionally, if you have any other items relating to the history of Stirling-Rawdon Township that could be added to this collection please contact us. This could include books, newspaper articles, scrapbooks, family histories, memorabilia etc. Space is limited in the library so we are not looking to keep these items. Instead we would like to borrow them temporarily in order to scan or take a picture, collect as much information about them as possible, put them online for people to peruse and then return them to you.
If you have anything that you can add to this collection, please fill out a Copyright Release Form giving us permission to put your items online. The Copyright Release Form can be found by clicking on the link below. Please print and drop off the hard copy at the library or email it to info@stirlinglibrary.com when you bring us the items for digitization.
If you have any questions please give us a call at (613)395-2837 or email info@stirlinglibrary.com
Genealogy Research
Interested in researching your family history? The Stirling-Rawdon Public Library has access to ancestry.com at the library.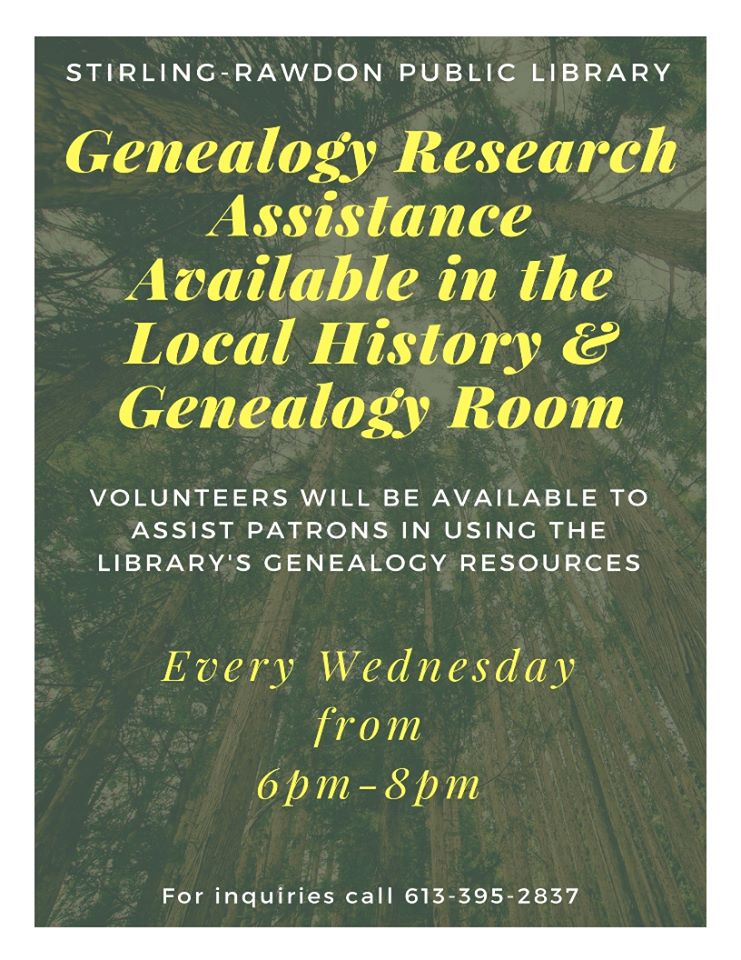 Temporarily Unavailable due to COVID-19. Access to our Local History/Genealogy room is open to everyone. There is a microfilm reader available for public use, microfilms of many newspapers dating back to the 1800s, books on local history and district as well as online resources.