CBC Corner
This one-of-a-kind digital portal allows you to access a wide variety of content including trusted news, local stories, entertaining TV and radio shows, award-winning podcasts, educational kids content, innovative podcasts, a free English and French language learning app, news in foreign languages and much more!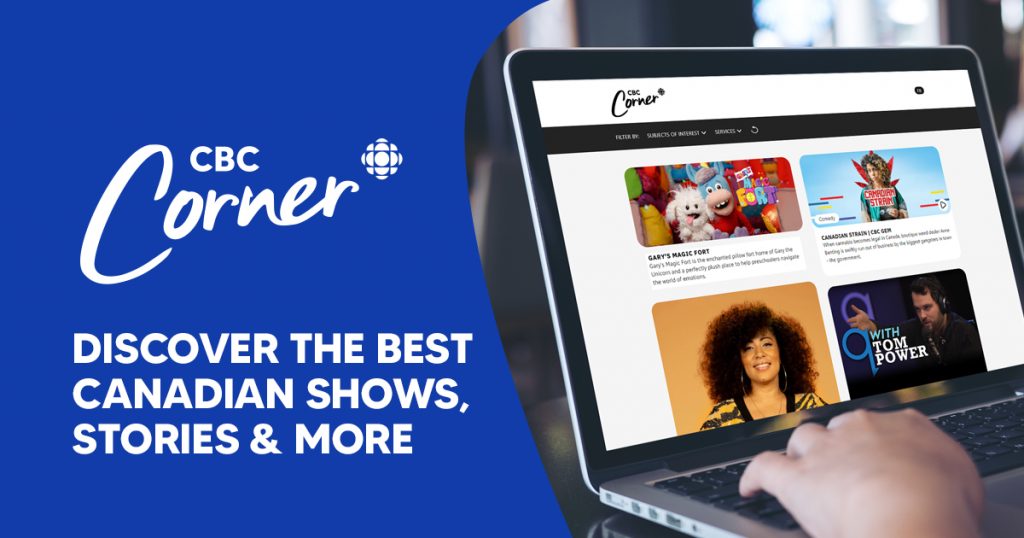 Visit Stirling-Rawdon Public Library's CBC Corner here!
Do you have children?
CBC Corner has tons of safe, educational and entertaining content for children and youth of all ages including tv shows, free online games, fun quizzes and activities as well as news articles made by kids for kids. As a parent, you will also find cool and simple crafts ideas, healthy recipes, and easy ways to learn through play!
Interested in other languages?
CBC Corner offers, through the daily multilingual service RCI, news in five of the most commonly
spoken foreign languages in Canada (Mandarin, Punjabi, Tagalog, Arabic, Spanish). CBC Corner is also a very valuable resource for those looking to learn or refine their French, or even their English skills, through our free Canadian language learning app, Mauril!
Looking for French content?
CBC Corner also allows you to explore all of this en français with audio, video and news from Radio-Canada!
These are just a few examples of all the great content you can find! Don't wait any longer… check it out!
WHAT BOOK SHOULD I READ NEXT?
Inter-Library Loan: Login to your inter-library loan account to request books from other libraries from the comfort of your home. To set up an account with your library card please contact the library or ask about this service the next time you are in.
What Should I Read Next? Enter a book you like and the site will analyse their huge database of real readers' favourite books to provide book recommendations and suggestions for what to read next.
Fantastic Fiction: Bibliographies for over 40,000 authors. Information on over 500,000 books.
GoodReads: Book recommendations and reviews.
New York Times Bestseller List
Project Gutenberg: Project Gutenberg offers over 57,000 free eBooks. Choose among free epub books, free kindle books, download them or read them online.
Whichbook: Whichbook enables millions of combinations of factors and then suggests books which most closely match your needs.
WHERE CAN I GET HELP TO FIND A JOB?
Career Edge: Career Edge has been providing employment services since 1987 and has offices in Campbellford, Napanee, Northbrook, Picton and Trenton.
Employment Ontario: Employment Ontario can help you get training, build skills or find a job. They connect people looking for work with employers looking for workers.
Hastings County Ontario Works: Ontario Works provides employment and financial assistance to help you become financially independent and to improve quality of life for you and your family. If you qualify for financial assistance you must participate in employment related activities unless you are unable due to a serious medical condition or you are required to provide care to family members.
Meta Employment Services: Supporting job seekers and employers for more than 30 years.
Service Canada: Service Canada provides Canadians with a single point of access to a wide range of government services and benefits. They are committed to improving services for Canadians by working with partners to provide access to the full range of government services and benefits that Canadians want and need through the Internet, by telephone, in person or by mail.
WHERE CAN I GET HELP TO COMPLETE MY EDUCATION?
General Education Development (GED): No matter what your career goals are, chances are you need a high school diploma to achieve them. The GED® certificate is widely accepted as meeting secondary school graduation requirements.
Loyalist College: Loyalist College was founded in 1967 as part of a provincial initiative to create many such institutions to provide career-oriented diploma and certificate courses, as well as continuing education programs to Ontario communities.
Ministry of Advanced Education and Skills Development: Helping you get the education and training you need to build a rewarding career. Information on financial assistance, education and  jobs and careers.
Hastings & Prince Edward School Board: The district covers a wide geographic area of 7,221 square kilometres bordered by Maynooth to the north, Deseronto to the east, Prince Edward County to the south and Quinte West to the west.
DigitialLearn: If you are new to computers, haven't used them for a while, are a little unsure and uncomfortable, or just need a bit of a refresher, this website has the tools to help you tackle technology at your own pace and gain the confidence you need to succeed. Short tutorial videos on using a computer, being safe online, connecting with others, mobile devices and more!
GFC Global: Learn essential skills you need to live and work in the 21st century. From Microsoft Office and email, to reading, math, and more— more than 200 topics, including more than 7,000 lessons, more than 1,000 videos, and more than 50 interactives and games, completely free.
WHERE CAN I GET HELP TO FIND FOOD, SHELTER & CLOTHING?
Stirling & Area Christian Community Care – Community Cupboard: Emergency food supplies for residents of Stirling-Rawdon. Eligible for those in the 395 calling area
Good Food Box/Good Baby Box Programs: The Good Food Box Program offers fresh, healthy, nutritious fruits and vegetables at a fraction of the retail cost. The boxes are available monthly, are packed in Belleville and shipped to Depots throughout Hastings & Prince Edward Counties. The Good Baby Box program helps families stretch their dollar, reduce food costs and meet the nutritional food needs of their infants and toddlers.  Participants can choose from a variety of food and baby care items such as jarred baby food, cereal, diapers, baby wipes, shampoo, and formula.
Community Advocacy & Legal Centre: The Community Advocacy & Legal Centre is a non-profit community legal clinic.  They provide free legal services to low-income residents of Hastings, Prince Edward and Lennox & Addington counties.
Hastings Housing: Hastings County, through the Hastings Local Housing Corporation (HLHC), provides safe, modest and affordable housing for low income households.
Trenton Food Bank: The Trenton Care & Share Food Bank is a proud and active member of the Ontario Association of Food Banks (OAFB). The Trenton Care & Share Food Bank is the official representative of the OAFB in the community of Quinte West. Their Mission is to serve the people of Quinte West within our OAFB designated borders by providing food and assistive services to families during their time of need.
Gleaners Food Bank: Gleaners Food Bank provides much needed non-perishable and perishable foods. When it is available they provide fresh produce such as potatoes, carrots, apples or onions. In addition to being a food bank Gleaners Food Bank also operates the Tri-County Food Network warehouse which provides food distribution to three counties (Hastings, Prince Edward and Northumberland).
WHERE CAN I GET HELP FOR FINANCIAL ASSISTANCE?
Hastings County Ontario Works: Ontario Works provides employment and financial assistance to help you become financially independent and to improve quality of life for you and your family. If you qualify for financial assistance you must participate in employment related activities unless you are unable due to a serious medical condition or you are required to provide care to family members.
Belleville Community Trust: Emergency Financial Support for Belleville residents and Central Hastings * based on confidentiality * Pay utilities, rent, medical bills and other immediate financial needs to avoid disconnection or eviction * No fee for service * apply by phone, then fill out application for needs assessment * Emergency number 613-962-3070
Credit Counselling Services: Provides consumer education, free confidential financial counselling and debt repayment programs for individuals and families. Assistance with budgeting and meeting financial priorities & goals.
WHERE CAN I GET HEALTH ADVICE?
Hastings & Prince Edward Public Health: Hastings Prince Edward Public Health (HPEPH) serves the County of Prince Edward, Hastings County, Quinte West, and Belleville, Ontario from offices in Trenton, Picton, Bancroft and Belleville. HPEPH provides dozens of programs and services, along with reliable health information.
Quinte Health Care (QHC): Care is provided through four hospitals – QHC Belleville General Hospital, QHC North Hastings Hospital, QHC Prince Edward County Memorial Hospital and QHC Trenton Memorial Hospital – and includes four emergency departments, operating rooms at three sites, a rehabilitation day hospital, children's treatment centre, ambulatory care clinics, community mental health programs and a range of diagnostic services. There are inpatient beds for acute medical patients, intensive care, obstetrics, paediatrics, mental health, complex continuing care, rehabilitation and surgery.
Campbellford Memorial Hospital: Campbellford Memorial Hospital (CMH) is a 34-bed health care facility located in Trent Hills. It serves approximately 30,000 Northumberland, Peterborough and Hastings County residents, as well as a large seasonal population of cottagers and tourists enjoying the beautiful Kawartha Lakes Region and the Trent River System.
Canadian Mental Health Association: CMHA facilitates access to the resources people require to maintain and improve mental health and community integration, build resilience, and support recovery from mental illness.
Children's Mental Health Services: Children's Mental Health Services is funded by the Ministry of Children and Youth Services.  All services are free to you and your family. Participation in their service is voluntary.  They will work with you and your family to set goals and work to achieve the positive changes you identify.
DrugRehab.com: Find information, resources, and treatment for people battling addiction and related conditions.
Alcohol Addiction: If you need help, or know someone who needs help, with alcohol addiction, find information on cost-effective, quality addiction care that truly works.
Alcohol Recovery: Alcohol recovery is a lifelong process that requires dedication and a strong support network. Find information that will help you remain on the road to recovery.
Addiction Center:  When a person succumbs to the grip of an addiction, it is extremely difficult to quit on their own. Understanding how a substance abuse problem develops helps to shed light on why they are so hard to beat. Learn about what addiction is, the signs to look out for and related topics
Healthy Eating: Hastings Prince Edward Public Health offers many programs and services to support healthy eating. HPEPH staff members are available on their Healthy Life Line to answer your questions at 613-966-5500 ext. 610 or 1-800-267-2803 ext. 610.
WHERE CAN I GO FOR SUPPORT SERVICES?
Youthhab: Youth Habilitation Quinte Inc. (Youthab) is a community based non-profit organization established in 1984.  Their goal is to help young people living in the Quinte area to obtain and maintain safe and affordable housing, good mental health and employment.
Sexual Assault Centre Quinte District: Each year, the Sexual Assault Centre for Quinte & District helps hundreds of clients deal with the devastating effects of sexual violence. Through their counselling and support groups, Safe Place drop-in, and Paths of Courage Residential Healing Program, SACQD staff and volunteers reach out to survivors and their families.
Alcoholic Anonymous: District 30 serves Trenton to Port Hope. For a list of meetings click here. District 34 serves Belleville and area, for a list of meetings click here.
Hastings County Children's Services: Information on child care subsidies, child care programs and Wage Enhancement/Home Child Care Enhancement, Fee Stabilization Support
Highland Shores Children's Aid Society: The Society protects and cares for vulnerable children and youth in the counties of Hastings, Northumberland and Prince Edward and provides programs and services that help to empower them and their families.
Three Oaks Shelter: Services available in Belleville, Quinte West, Hastings County and Prince Edward County. Three Oaks is committed to the promotion of equality and the end of violence against women and children.
Volunteer & Information Quinte: VIQ offers volunteer recruitment and referral to over 260 agencies located in Hastings and Prince Edward Counties which otherwise would not have the manpower to recruit volunteers. 
Open Line Open Mind: Free. Private. Confidential. Help for Adults 16+ Open Line Open Mind is a free, confidential service to get information, support and referral to all mental health and addictions services in Hastings & Prince Edward Counties in Ontario, Canada. Call 310-OPEN and be connected to someone with an open mind to help you when you need it. We are OPEN 24 hours a day, 7 days a week, 365 days a year.
Cleo Connect: Ontario's online home for training, tools, resources, and connections that help community workers help their clients who have legal problems. This site contains general legal information for Ontario, Canada. It is not intended to be used as legal advice for a specific legal problem.
GENERAL REFERENCE
Windows 10 Troubleshooting Guide: The most extensive and comprehensive guide to troubleshooting and solving common problems in Windows 10. From simple issues like customizing your Start menu to complex solutions for fixing the Blue Screen of Death – we have you covered! The guides are thorough, proven, easy-to-follow and supported with helpful screenshots that will guide you through every step of the process.
Start Boating: Here you will learn the basics of what it takes to safely enjoy your boating and be better prepared to have fun on the water. Information about kayaks, canoes, paddle boards and power boats.
Canadian Safe Boating Council: The Canadian Safe Boating Council is in the business of promoting safe and responsible boating throughout Canada. Find information about lifejackets, boating sober, being prepared, cold water immersion and even take a boating course.
Canadian Encyclopedia Online: The Canadian Encyclopedia plays an essential role in providing Canadians and others with fact-checked, updated information about our people and country.
Atlas of Canada: Interactive maps, topographic maps, thematic maps etc.
CBC Digital Archives: The CBC Archives team has been a unique collaboration of creative teams in Toronto working together with archivists and educational writers across Canada.
TPL – Virtual Reference Library: Explore Ontario, present, past and future, through historic photographs, maps, digitized books, videos, and blog posts.
Library and Archives Canada: Library and Archives Canada's (LAC) collection is the shared documentary heritage of all Canadians and spans the entire history of our country. The collection contains materials in all types of formats from across Canada and around the world that are of interest to Canadians.
Free G1 Practise Test: All new drivers in Ontario must take a G1 knowledge test (also known as G1 written test). The official test is created by the Ministry of Transportation (MTO) and is offered in all DriveTest Centres. The test is available on paper at all locations across Ontario, and on computer at some locations. No appointment is required (make sure you come at least one hour before the DriveTest centre closes though). There are 40 questions on the official G1 test, and they are all multiple choice. The test is not timed. You'll receive two test sheets, each with 20 questions. The first set of 20 questions is about road signs, while the second one is about the rules of the road. You'll need to get 16 or more questions right on each of those two sections in order to pass your G1 test (the total passing score for both sections is 80%). Your G1 knowledge test will be marked on the spot, and you'll receive your results immediately. The results of your G1 written test are valid for one year.
CemSearch – Genealogical Research Tool: A genealogy site for people looking for family information in south-central Ontario. Contains cemetery transcriptions, with additional family history and pictures. A comprehensive compilation of burial plots from Haliburton to Napanee to Bowmanville.