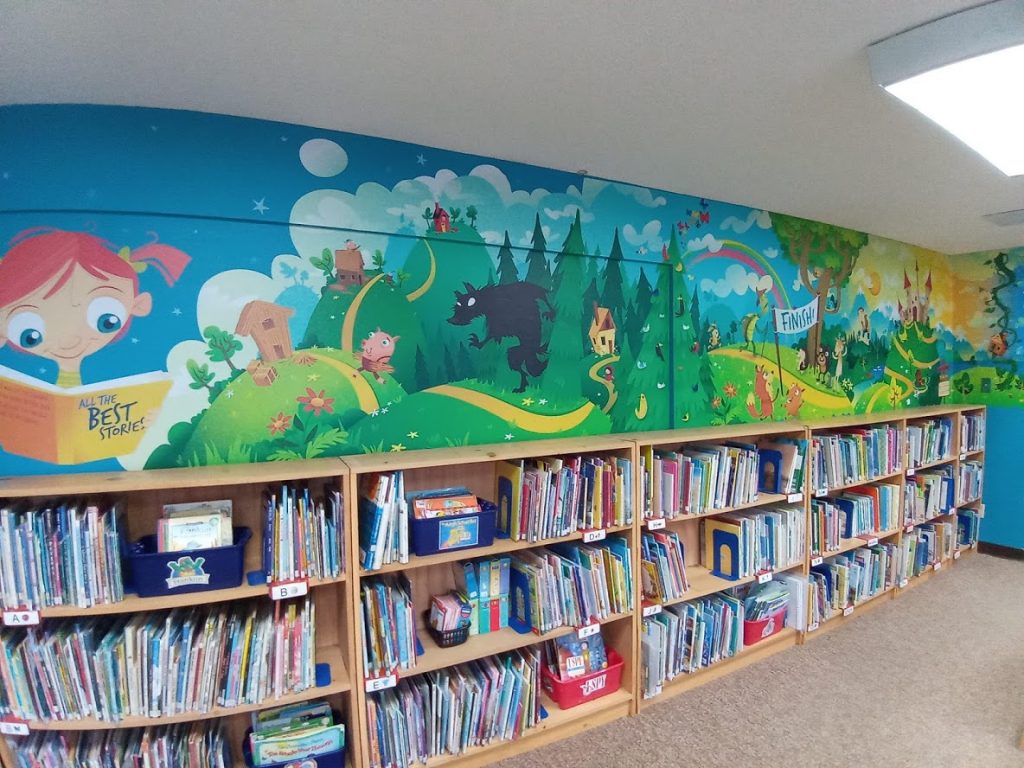 Unattended Children: The Library is a busy place and Library staff cannot assume responsibility for children left unattended within our public facility. The following policy establishes the conditions needed to maintain the well-being of children and the responsibilities of their caregivers.
There's plenty happening for kids at the Stirling-Rawdon Public Library!
Get your own library card
Find a favourite book or movie
Use a Leapfrog tablet to play educational games
Check out our awesome mural
Grab & Go Book Bags!
Children's Tablets
The library has 3 Leapfrog tablets available for use in the children's department. These are not for borrowing but can be used anywhere in the library while you visit. They contain a number of fun and educational games and have no access to the internet, except for what is preloaded on them. Ask at the circulation desk if you would like to use one!
Children between the ages of 10-14 are required to have an internet permission form signed by either a parent or guardian before accessing the library's internet. Once completed, this form is kept on file at the library. Click here to go to our Forms page. Children under the age of 10 must be accompanied by an adult.
Children's Programs
The Stirling-Rawdon Public Library offers many programs for children during school breaks such as March Break and during the summer holidays, as well as throughout the school year with afterschool programs and storytime during the day. Check out our Events Calendar for up to date programs with descriptions. To participate in our children's programs your child must have a completed program registration form on file. This form only needs to be completed once and is added to with each program your child participates in. Click here to go to our Forms page and access the appropriate form.
Book Bags
How it works: Grab & Go!
Each bag has an assortment of books on a specific theme. Just return the books and the bag! Included in each bag is an activity, colouring sheets, a bookmark, a literacy tip and links to additional resources. Get reading and enjoy!
Current Book Bag themes:

Gardening
Knights
Pets
Sports
Engineering
Wild Animals
Fairytales
Space
Dinosaurs
Vehicles
Ocean
The Body
Interested in learning more about one of the Book Bag themes? Check out these additional online resources!
Gardening:
Virtual Tours of National Parks – 33 National Park  Tours You Can Take Virtually From The Comfort Of Your Home
How to plant a vegetable garden – tips for starting a vegetable garden
Garden Trivia & Facts – There's a lot more to our gardens and much loved plants than we realise; amazing secrets are lurking everywhere in our gardens. Here are some super interesting facts that you didn't know about plants
Get Growing – Plant a garden and watch it grow – online game
Interactive Plant Biology – A Kid's Guide To The Life Cycle Of A Flower
Knights:
History for Kids – The middle ages were a very interesting time it came about after the collapse of the Roman Empire. Different leaders tried their best to create their own empires, which did not last. As you read more about this period, you will discover many different things like the noble class, King John and the plague or the Black Death.
Brittanica Kids – The Middle Ages was the period in European history that came between ancient and modern times. It lasted from about ad 500 to about 1500. The Christian church played an important part in the history of the Middle Ages.
Kids Connect – Middle Ages Facts and Worksheets
Ducksters – Middle Ages timeline, information about knights and castles, major events, people, nations and culture.
Pets:
Curious Facts about Pets – surprisingly adorable facts about our pets.
Fun Facts – Fun facts about pets, animals, cats and dogs
Virtual Read to a Pet – Meet Sebastian. Practice reading out loud from home with a special furry friend. Brought to you by the Fox River Valley Public Library District
Pet Care for Kids – pet care information for dogs, cats, rodents and rabbits that will help kids take the best possible care of their pets.
Sports:
GoNoodle – GoNoodle engages kids every month with movement and mindfulness videos created by child development experts. Available for free at school, home, and everywhere kids are!
Cosmic Kids Yoga – Yoga, mindfulness and relaxation for kids. Interactive adventures which build strength, balance and confidence – and get kids into yoga and mindfulness early!
Koo Koo Kanga Roo – Koo Koo Kanga Roo is the dance-a-long show from Bryan and Neil, two friends who set out to experiment with live music and make it more fun. Armed with nothing more than an iPod, two mics and some gold sneakers, Koo Koo Kanga Roo puts on an all-ages dance party that invites everyone to join in. Whether you know them from "brain break" videos in your classroom, the Warped Tour or a late night bar show, you've probably gotten sweaty dancing to their jams at some point.
Engineering:
Hour of Code – Try a one-hour tutorial designed for all ages in over 45 languages. Join millions of students and teachers in over 180 countries starting with an Hour of Code.
Scratch – With Scratch, you can program your own interactive stories, games, and animations — and share your creations with others in the online community. Scratch helps young people learn to think creatively, reason systematically, and work collaboratively — essential skills for life in the 21st century.
Fun and Exciting Facts about Engineering – From space exploration to the water slide, engineering makes our lives more 'fun and exciting.'
How do cars work and move – Cool simple facts about cars for kids
Fun Facts about Engineering, Science and Technology – Did you know these fun facts about engineering, science and technology?
How Stuff Works – Learn how everything works!
Wild Animals:
Kids National Geographic – Games, articles, and videos about animals and nature
The Fiona Show – Meet Fiona, a baby hippopotamus that was born 6 weeks premature at the Cincinnati Zoo. She is the smallest hippo ever to survive. Follow her remarkable story that has lead her to become an international phenomenon.
Pittsburgh Zoo and PPG Aquarium – Check out the Zoo's webcams, podcast, and some additional fun and educational programming we are creating for you and your family at home. Live cheetah and penguin webcams!
Unique Facts about Unique Animals – a list of all of the very best and most interesting and downright funny facts about animals we could find.
Weird Animal Facts – The animal kingdom is full of wonder and amazement. There is so much we still don't know about the world we live in and the different animals that inhabit it. Here's a list of 25 of the most outrageous, disturbing, and adorable animal facts—from cats, penguins, and dolphins to tigers, ostriches, and pandas.
Canadian Geographic – Learn about wild animals that live in Canada!
Fairytales:
Fun Facts about Fairytales – Do you like fairy tales? Did you know that fairy tales are often influenced by different cultures and times, and that's why there are different versions around the world? Eleven interesting facts about fairy tales
World of Tales – Read the stories of some of the most famous folklorists and storytellers.
Storynory – Classic fairy tales by Hans Christian Andersen, The Brothers Grimm, Charles Perrault, Aesop and others. This is where frogs chat to princesses, wolves huff and puff, and gingerbread men run away.
Kidoons – Kidoons integrates online education with live entertainment for family entertainment and storytelling. 
Story Games – PBS Kids. Story games, reading games, vocabulary games and more!
Space:
12 Facts about Space – some of the most amazing facts about space
Interesting Space Facts – begin your journey through time & space, and enjoy these 100 crazy facts about space!
NASA Space Place – Learn about NASA space and Earth science with our educational games for kids
Space Engine – SpaceEngine is a realistic virtual Universe you can explore on your computer. You can travel from star to star, from galaxy to galaxy, landing on any planet, moon, or asteroid with the ability to explore its alien landscape. You can alter the speed of time and observe any celestial phenomena you please.
Space Shuttle – an online flight simulator space game
Dinosaurs:
Dinosaur Facts for Kids – Enjoy these fun dinosaur facts for kids and learn about everything from the ferocious Tyrannosaurus Rex to the enormous Diplodocus.
Basic Dinosaur Facts – Delve into these fast facts about dinosaurs for kids of all ages. Discover why the Tyrannosaurus had sharp teeth, where the name "dinosaur" comes from, and more!
Paleontology for Kids – American Museum of Natural History's science website for kids. Find free dinosaur games and activities.
Dinosaur Games – Learn about dinosaurs and play games with your favorite PBS KIDS characters like Dinosaur Train, Sesame Street, the Cat in the Hat and Curious George!
Vehicles:
Train facts – Find information on steam trains, cargo trains, locomotives, high speed railways, new technologies and much more. Read on for a wide range of interesting trivia and information related to trains.
Truck Facts – Kids Encyclopedia Facts
Driving Games – Get ready to zoom, zip, and race your way to lots of fun with a huge selection of  online driving games.
Ocean:
Creatures of the Deep Sea: Learn about the different creatures that live deep in the ocean.
Sea Beneath: A marine biology blog aimed at kids and teens. Learn about the underwater world and the different creatures that live in the ocean.
National Geographic Kids Ocean Portal: The ocean is overflowing with amazing facts you probably didn't know. There's challenges, ocean animal profiles, ocean-themed games, videos, and photos for you to explore.
National Ocean Service: Activities to help you learn more about our world, and how NOAA helps you explore, understand, and protect our Earth. Fun hands-on activities, collections of videos for kids of all ages, colouring sheets, puzzles, downloadable books and other educational resources so you can learn all about the ocean.
The Body:
Kidshealth: The site contains student-centered articles like "Bones & Skeletal System," "Brain & Nervous System," and the Digestive System and videos like How Bones Work, How Muscles Work, and How the Skin Works.  Diagrams, slide shows, and short video clips are weaved into articles to help students develop a better understanding of the system and it's function. If you want to dig in, KidsHealth also provides teacher guides, helpful handouts, quizzes (with answer keys!), and activities to use with students.
Scholastic Study Jams: A wonderful resource for science topics like the human body. Students can view engaging, animated videos or informative slideshows and even quiz themselves afterward! Some of the Study Jams on human body systems include: Heredity, The Human Body, Skeletal System, Muscular System, Circulatory System, Respiratory System, Nervous System, and Digestive System.
DKFindout Human Body: a super engaging website that is similar to a "lift the flap" book.  Under the subject of the human body, students choose a topic they are interested in learning about. They can choose from topics like body defenses, brain and nerves, digestion, heart and blood, keeping healthy, life cycle, lungs and breathing, muscles, the senses, skeleton and bones, your amazing body, and the urinary system—pretty much every human body systems topic can be found on this website! Once inside a topic, students see a short passage and an illustrated diagram with clickable touch-points that pop up with definitions, short explanations, and other diagrams that explain the subtopics in more detail.
Rader's Biology4Kids: a great website for reading about and completing research on the human body.  The website is broken up into systems including the skeletal, muscular, circulatory, respiratory, digestive, excretory, nervous, endocrine, integumentary, immune, and lymphatic systems.  The information in the articles are clearly written for upper elementary students with key vocabulary words highlighted in bold. At the end of each article, they've included a related video.
Wonderopolis: Thousands of engaging articles written as answers to different wonderings about the world, science, and other topics.  Students can type in a question or topic and immediately access a board of fascinating articles.  Each article is written FOR KIDS in clear, student-friendly language, complete with photographs, diagrams, and often a related video clip. The articles are almost always followed with a short list of activities or guiding questions to encourage students to make greater connections to the articles.
Other:
Storyline Online – Storyline Online is available 24 hours a day for children, parents, caregivers and educators worldwide. Each book includes supplemental curriculum developed by a credentialed elementary educator, aiming to strengthen comprehension and verbal and written skills for English-language learners.
Reef Relief – Coral reefs are increasingly vulnerable worldwide by local and global activities. Learn what you can do to help save the coral reef.
Mystery Science – They've been collecting every question children ask and creating video explanations for all of them—not just Why questions, but also How questions—step-by-step guides for anything they want to do.
Easy Science Experiments to do at home – Whether you're prepping for a fifth-grade science fair or want something fun to do with preschoolers, these cool science experiments for kids are super easy and a lot of fun for kids of all ages.
Khan Academy – Free online video lessons in math and other subjects
The Joy of Painting – Learn how to paint with Bob Ross (full episodes)
Things for Kids to Draw – drawing prompts for silly things for kids to draw