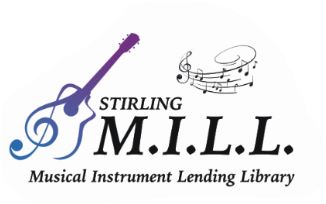 As of January 8th, 2019, the Stirling Musical Instrument Lending Library (M.I.L.L) is now open!
The Stirling M.I.L.L will lend musical instruments from our collection to residents of Hastings & Northumberland Counties. Instrument loans will be available to M.I.L.L cardholders at the Stirling-Rawdon Public Library.
The Stirling M.I.L.L is a big project, starting small and developing to serve communities throughout the area. It is built on grassroots involvement and participation, and volunteer contribution from many sources. You support for the M.I.L.L, in whatever way you are able, will be appreciated.
Operating expenses, maintenance costs, materials and supplies for the M.I.L.L all cost money; financial contributions of any amount are always welcome.
The Stirling M.I.L.L welcomes donations for our collection of musical instruments and related equipment.  Such as:
Guitars (acoustic and electric): bass guitars, mandolins, banjos, ukuleles…
Keyboards, synthesizers, accordions…
Drums and percussion instruments (all kinds and sizes): drum kits, cymbals, cowbells, conga, djembes and cajons, tambourines and shakers
Electronics: amplifiers, pedals, mixers, speakers, microphones, cables…
Orchestral instruments: violins, violas, cellos, basses…
Band instruments: brass and woodwinds…
Accessories of all kinds: tuners, music stands, instrument stands, capos, drumsticks/brushes, music books, sheet music…
For more information contact:
James Reid – Stirling M.I.L.L
(613)395-3257, 2james@kos.net
Jaye Bannon – Stirling-Rawdon Public Library
(613)395-2837, jaye@stirlinglibrary.com