Summer…a time for travels and vacation and seeing new things! Wouldn't it be lovely to travel the world, discover new things, experience different cultures? Unfortunately even without recovering from a global pandemic, travelling the world isn't in everyone's budget… But we've got you covered! Instead, how about we take an imagination vacation? A staycation. Engage your mind during your summer holiday, and read books about travel and far away places. A perfect escape without ever having to leave your favourite reading chair. All titles are available through the library, either in print or through Libby/OverDrive. Clicking on the book title will take you to OverDrive (which syncs to Libby), or the library catalogue, where you will be able to download the book or e-book or place a hold.
Need help accessing Libby from your computer or mobile device? Email us at info@stirlinglibrary.com or call us at (613)395-2837 and a staff member will be happy to help. Need a library card? Contact us and we can set one up for you! The list has been divided into Adult Fiction, Adult Non-Fiction and Children's Books. If you would like more book recommendations give us a call or email!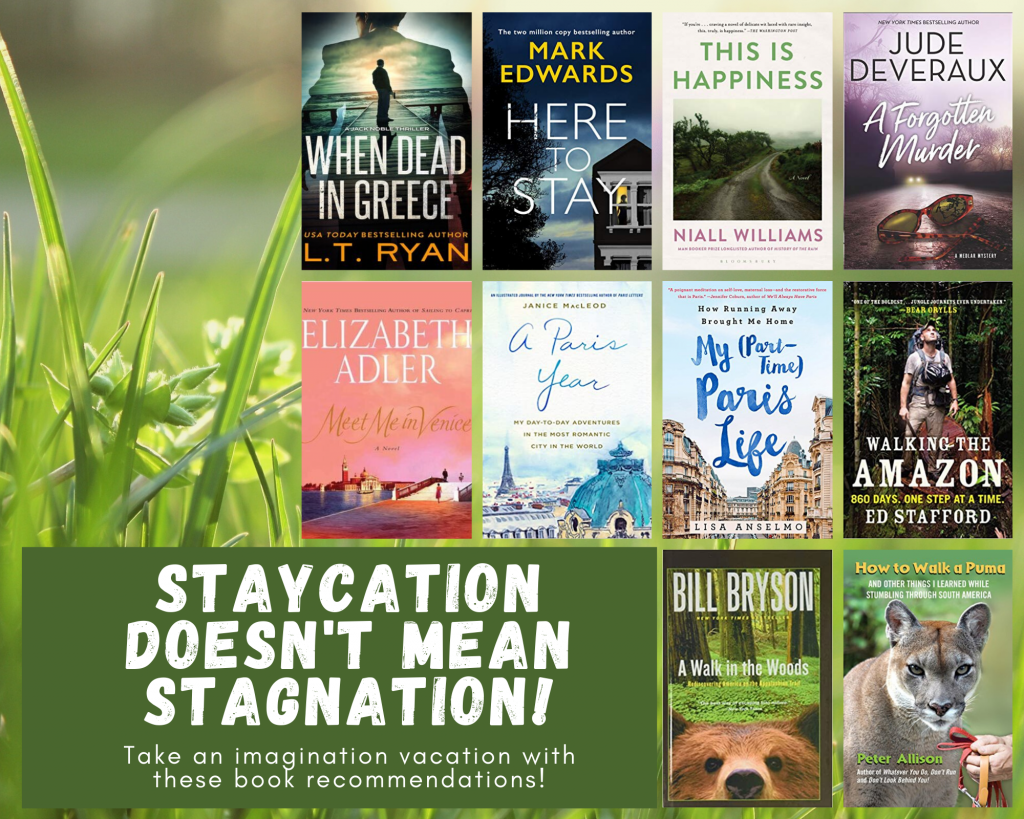 Adult Fiction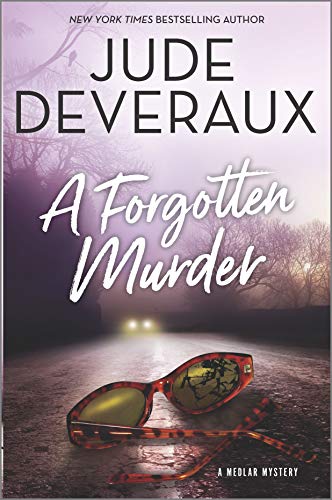 A Forgotten Murder by Jude Devereaux
After solving two murder cases in their hometown of Lachlan, Florida, Sara Medlar, her niece Kate and their friend Jack need a change of scenery. Sara arranges for them to visit an old friend of hers in England. Upon arrival at Oxley Manor, a centuries-old estate that has been converted to a luxury hotel, Kate and Jack quickly realize that Sara is up to something. They learn that Sara has also invited a number of others to join them at Oxley.
When everyone assembles, Sara lets them know why they are there. Decades earlier, two people ran off together from Oxley and haven't been heard from since—and Sara wants to solve the case. As the people who were there the night the two went missing, the guests find themselves cast in a live mystery-theater event.
In reenacting the events of that night, it becomes clear that everyone has something to hide and no one is safe, especially when the discovery of a body makes it clear that at least one of the people who disappeared was murdered.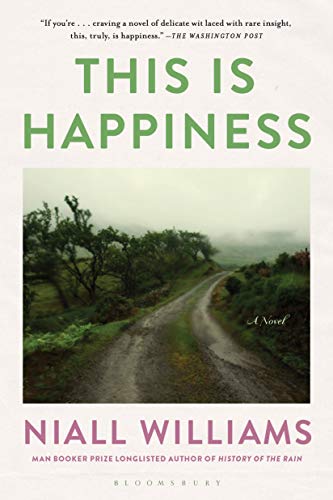 This is Happiness by Niall Williams
The rain is stopping. Nobody in the small, forgotten village of Faha remembers when it started; rain on the western seaboard was a condition of living. Now–just as Father Coffey proclaims the coming of electricity–it is stopping. Seventeen-year-old Noel Crowe is standing outside his grandparents' house shortly after the rain has stopped when he encounters Christy for the first time. Though he can't explain it, Noel knows right then: something has changed.
This is the story of all that was to follow: Christy's long-lost love and why he had come to Faha, Noel's own experiences falling in and out of love, and the endlessly postponed arrival of electricity–a development that, once complete, would leave behind a world that had not changed for centuries.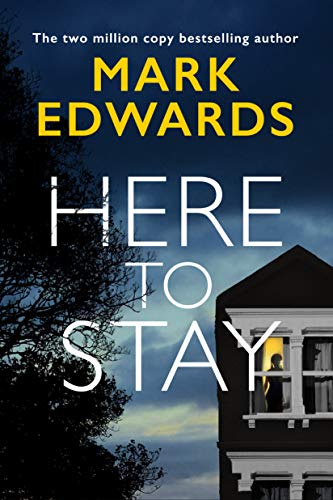 Here to Stay by Mark Edwards
Gemma Robinson comes into Elliot's life like a whirlwind, and they marry and settle into his home. When she asks him if her parents can come to stay for a couple of weeks, he is keen to oblige – he just doesn't quite know what he's signing up for.
The Robinsons arrive with Gemma's sister, Chloe, a mysterious young woman who refuses to speak or leave her room. Elliot starts to suspect that the Robinsons are hiding a dark secret. And then there are the scars on his wife's body that she won't talk about . . .
As Elliot's in-laws become more comfortable in his home, encroaching on all aspects of his life, it becomes clear that they have no intention of moving out. To protect Gemma, and their marriage, Elliot delves into the Robinsons' past. But is he prepared for the truth?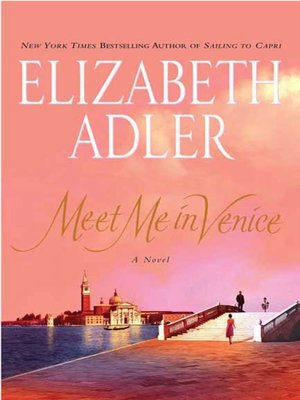 Meet me in Venice by Elizabeth Adler
Precious Rafferty is an American antiques dealer living in Paris. Though Precious—known as Preshy—lives in the world's most romantic city, she keeps her feet firmly on the ground. No man will ever sweep her off her feet. Until she meets Bennett James. He's perfect in every way. Is he too good to be true? Granted, she doesn't know much about his business or personal life in Shanghai, but isn't it time to stop being so jaded about romance? And then her long-lost cousin Lily Song sends her an urgent message about Preshy's new love. "Meet me in Venice" are Lily's cryptic words.
ONE MAN MIGHT POSSIBLY END IT…
Lily lives in Shanghai and knows the antiques underworld there—and she has a secret important enough to draw her to Venice to meet Preshy for the first time, face-to-face. Ruggedly handsome, world-weary writer Sam Knight senses there's a story afoot. Precious senses he's getting closer and closer to her and enmeshed in this tangled web of danger and desire. But is Sam also not all he seems to be? Does he have a terrible secret he's keeping from Preshy? In Venice, Precious will have to weave through a maze of betrayers and seducers to discover who she can trust with her heart…and with her life.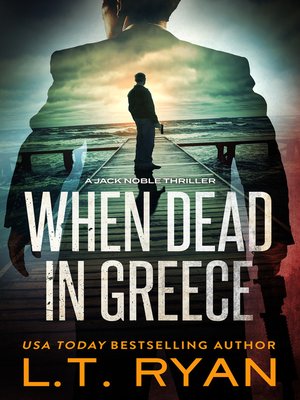 When Dead in Greece by L.T Ryan
A ghost on the Greek island of Crete.Jack Noble is grounded, recovering from his injuries and a near-death experience. The small town isn't so bad. An old guy named Esau has provided him with a place to stay. The food's good. And Isadora, Esau's niece, is easy on the eyes.But tranquility is interrupted when a group of local criminals threatens Esau, and kidnaps his niece. Despite his weakened state, Jack risks it all to save the beautiful woman he hardly knows, and settle the debt that Esau signed in blood.
Adult Non-Fiction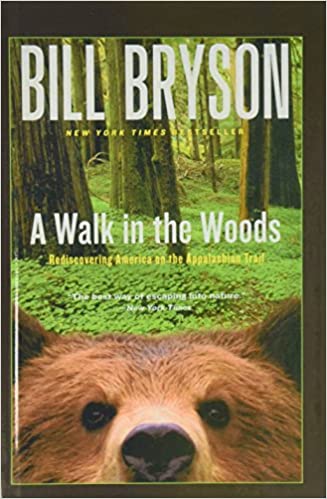 A Walk in the Woods by Bill Bryson
Back in America after twenty years in Britain, Bill Bryson decided to reacquaint himself with his native country by walking the 2,100-mile Appalachian Trail, which stretches from Georgia to Maine. The AT offers an astonishing landscape of silent forests and sparkling lakes and to a writer with the comic genius of Bill Bryson, it also provides endless opportunities to witness the majestic silliness of his fellow human beings.
For a start there's the gloriously out-of-shape Stephen Katz, a buddy from Iowa along for the walk. Despite Katz's overwhelming desire to find cozy restaurants, he and Bryson eventually settle into their stride, and while on the trail they meet a bizarre assortment of hilarious characters. But "A Walk in the Woods" is more than just a laugh-out-loud hike. Bryson's acute eye is a wise witness to this beautiful but fragile trail, and as he tells its fascinating history, he makes a moving plea for the conservation of America's last great wilderness.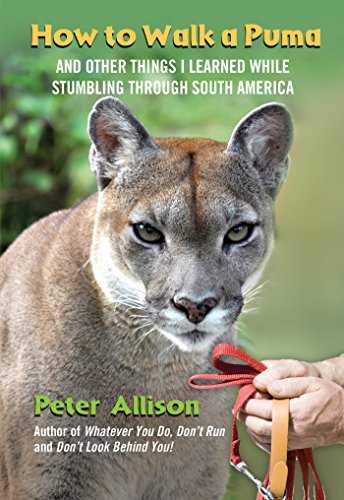 How to Walk a Puma by Peter Allison
On his nineteenth birthday, Peter Allison flipped a coin. One side would take him to Africa and the other to South America, the two places he wanted to explore before he died. He recounted his time spent as a safari guide in Africa to much acclaim in Whatever You Do, Don't Run and Don't Look Behind You. Sixteen years later, he makes his way to Santiago, Chile, ready to seek out the continent's best, weirdest, and wildest adventures, and to chase the elusive jaguar.
In just the first six months, Allison is bitten by a puma (several times), knocked on his head by a bad empanada, and surrounded by piranhas while rafting down a Bolivian river—all because of his unusual fear of refrigerators and of staying in any one place for too long. Ever the gifted storyteller and cultural observer, Allison makes many observations about life in humid climes, the nature of nomadism, and exactly what it is like to be nearly blasted off a mountain by the famous Patagonia wind. Allison's self-deprecating humor is as delightful as his crazy stunts, and his love for animals—even when they bite—is infectious.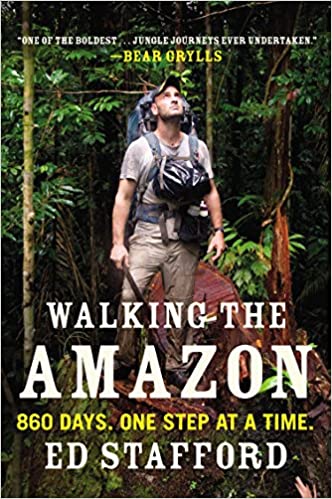 Walking the Amazon by Ed Stafford
In April 2008, Ed Stafford set off to become the first man ever to walk the entire length of the Amazon. He started on the Pacific coast of Peru, crossed the Andes Mountain range to find the official source of the river. His journey lead on through parts of Colombia and right across Brazil; all while outwitting dangerous animals, machete wielding indigenous people as well as negotiating injuries, weather and his own fears and doubts. Yet, Stafford was undeterred. On his grueling 860-day, 4,000-plus mile journey, Stafford witnessed the devastation of deforestation firsthand, the pressure on tribes due to loss of habitats as well as nature in its true-raw form. Jaw-dropping from start to finish, Walking the Amazon is the unforgettable and gripping story of an unprecedented adventure.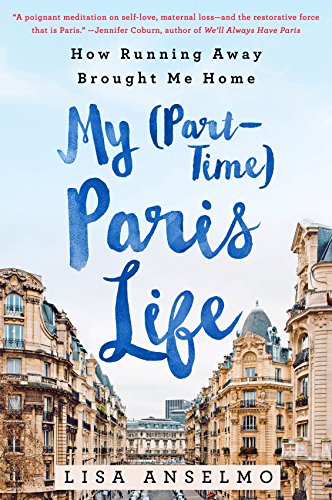 My (Part-time) Paris Life by Lisa Anselmo
Poignant, touching, and lively, this memoir of a woman who loses her mother and creates a new life for herself in Paris will speak to anyone who has lost a parent or reinvented themselves. Lisa Anselmo wrapped her entire life around her mother, a strong woman who was a defining force in her daughter's life—maybe too defining. When her mother dies from breast cancer, Lisa realizes she hadn't built a life of her own, and struggles to find her purpose. Who is she without her mother—and her mother's expectations?
Desperate for answers, she reaches for a lifeline in the form of an apartment in Paris, refusing to play it safe for the first time. What starts out as a lurching act of survival sets Lisa on a course that reshapes her life in ways she never could have imagined. But how can you imagine a life bigger than anything you've ever known?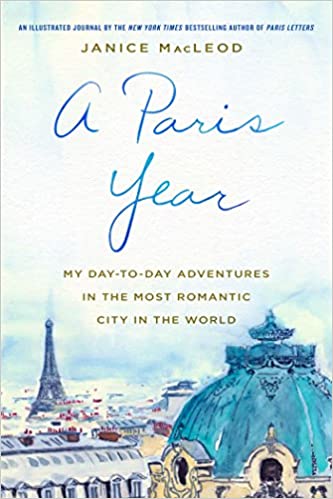 A Paris Year by Janice MacLeod
Part memoir and part visual journey through the streets of modern-day Paris, France, A Paris Year chronicles, day by day, one woman's French sojourn in the world's most beautiful city. Beginning on her first day in Paris, Janice MacLeod, the author of the best-selling book, Paris Letters, began a journal recording in illustrations and words, nearly every sight, smell, taste, and thought she experienced in the City of Light. The end result is more than a diary: it's a detailed and colorful love letter to one of the most romantic and historically rich cities on earth. Combining personal observations and anecdotes with stories and facts about famous figures in Parisian history, this visual tale of discovery, through the eyes of an artist, is sure to delight, inspire, and charm.
Children's Books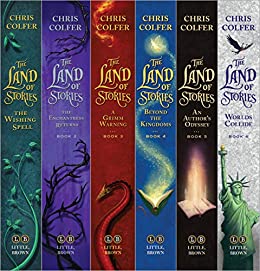 The Land of Stories by Chris Colfer
Through the mysterious powers of a cherished book of stories, twins Alex and Conner leave their world behind and find themselves in a foreign land full of wonder and magic where they come face-to-face with the fairy-tale characters they grew up reading about.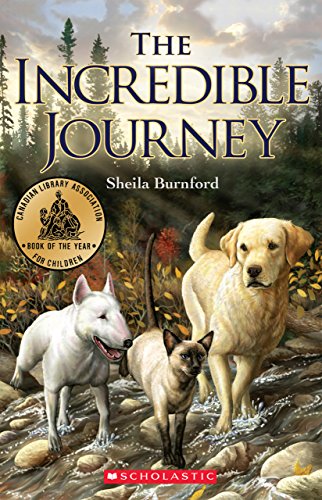 The Incredible Journey by Sheila Burnford
First published in 1961, The Incredible Journey tells the story of three pets: a young Labrador retriever, an old bull terrier, and a Siamese cat. While their owners are away in England, they are being cared for by a family friend at his home in the country. But a miscommunication occurs between the friend and his housekeeper when he goes on a hunting trip, and the animals are left alone for a several hours, with a gnawing instinct that something has gone wrong. They soon set off on a journey to find home, which instinct tells them is to the west.
They travel 400 kilometres across the Northern Ontario wilderness, facing many obstacles along the way: swift-flowing rivers and the rugged landscape; wild animals and unsympathetic humans; starvation, injuries and sheer exhaustion. Separately they would not have survived, but together this disparate group prevails, and they find their way home to the family they love.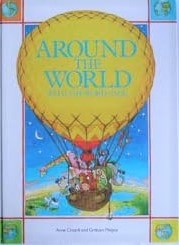 Around the World with the Word Gang by Anne Civardi and Graham Philpot
Through marvelously imaginative illustrations and lively, humorous text we join the wonderful Word Gang as they fly around the world in a bright yellow balloon. They touch down all over the globe and each exciting place offers them a new experience. Children will find out just how people and animals in faraway places live, the clothes they wear, the crops they grow, the houses they live in, the sports they place and the food they eat.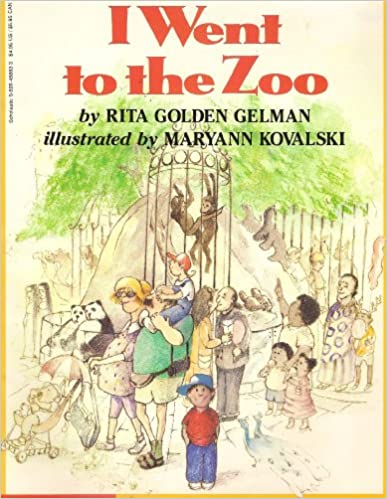 I went to the Zoo by Rita Golden Gelman
Thinking that the zoo animals look "as bored as bored could be," a boy takes them all home with him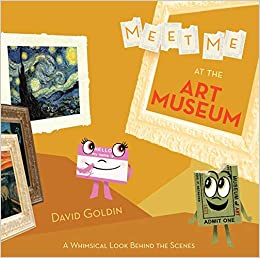 Meet Me at the Art Museum by David Goldin
After being discarded on the floor of an art museum, Stub (a museum ticket) has nowhere to go until Daisy the docent's helper (a name tag) finds him and offers him a tour of the museum. Stub meets a badge who keeps the artworks safe, a computer who archives them, and other characters who work there. From the director's office to the library to the conservator's studio to the loading dock, Stub discovers who does what, and what goes on, behind the scenes at the museum. He even finds a home for himself among the museum's many treasures!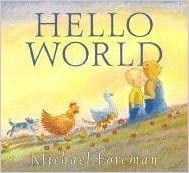 Hello World by Michael Foreman
As the day begins, Teddy and Baby set out to discover the wide world around them. New friends join with them as they go – kittens, puppies, ducklings, frogs, and chicks. There are trees to climb, fields to run in, sunny rocks to rest upon – and at the top of the hill, at the end of the day, the most magical discovery of all.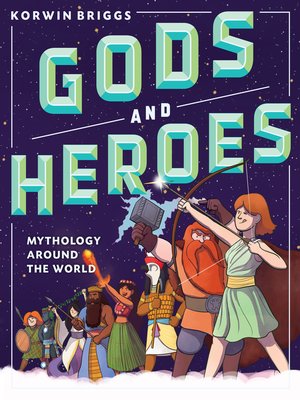 Gods and Heroes by Korwin Briggs
Before there was Batman, Wonder Woman, or Black Panther…there was Indra, Hindu king of gods, who battled a fearsome snake to save the world from drought. Athena, the powerful Greek goddess of wisdom who could decide the fate of battles before they even began. Okuninushi, the Japanese hero who defeated eighty brothers to become king and then traded it all for a chance at immortality. Featuring more than 70 characters from 23 cultures around the world, this A-to-Z encyclopedia of mythology is a who's who of powerful gods and goddesses, warriors and kings, enchanted creatures and earthshaking giants whose stories have been passed down since the beginning of time—and are now given fresh life for a new generation of young readers.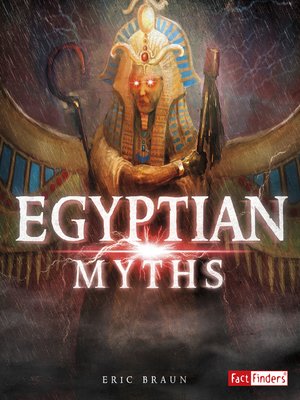 Egyptian Myths by Mark Braun
Make the mythology of ancient Egypt come to life through stories of adventure, magical powers, and family battles. Discover the Egyptian gods and goddesses and the powers they used to control and change the world. There's Ra, the sun god, who created the world, and Osiris, the god of the dead and ruler of the Underworld, plus many more. Dramatic photos and illustrations, plus sidebars, facts, and infographics help uncover how these myths influenced the culture and daily life of ancient Egypt.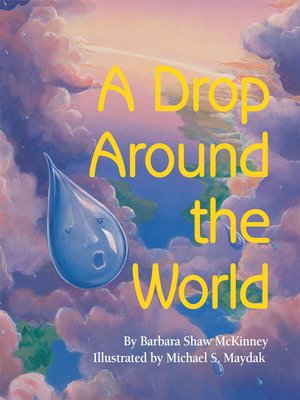 A Drop Around the World by Barbara Shaw McKinny
Follow a drop a water in its natural voyage around the world, in clouds, as ice and snow, underground, in the sea, piped from a reservoir, in plants and even in an animal. Science of the water cycle and poetic verse come together in this book.